Akron Ohio Wedding
June 10, 2017
Katie & Josh … I don't know where to start! These two will always hold a special place in my memories. They are the sweetest couple and come from the sweetest families! I still tear up when I look at their wedding photos, pure joy radiates from them!
These two met when they were in middle school, and their first kiss was way back then too. They kept in touch through high school and college. Four and a half years ago they reconnected and the rest is history. On December 20, 2015 Joshua asked Katie to marry him. Of course she said yes!
Katie has a love for color and upbeat things. She wanted their wedding to have a light and breezy summer feel, with a hint of glam. Katie and Joshua could not wait to be married, and to be able to celebrate with their friends and family.
The ceremony was held at Jackson Friends Church in Massillon. The first time Joshua saw Katie was when she walked down the aisle. His reaction was priceless, pure joy!! The ceremony space was stunning. An arch was provided by ReInspired Bride. It was decorated with flowers from Nikki's Perfect Petal Design and it was the perfect background in the Church.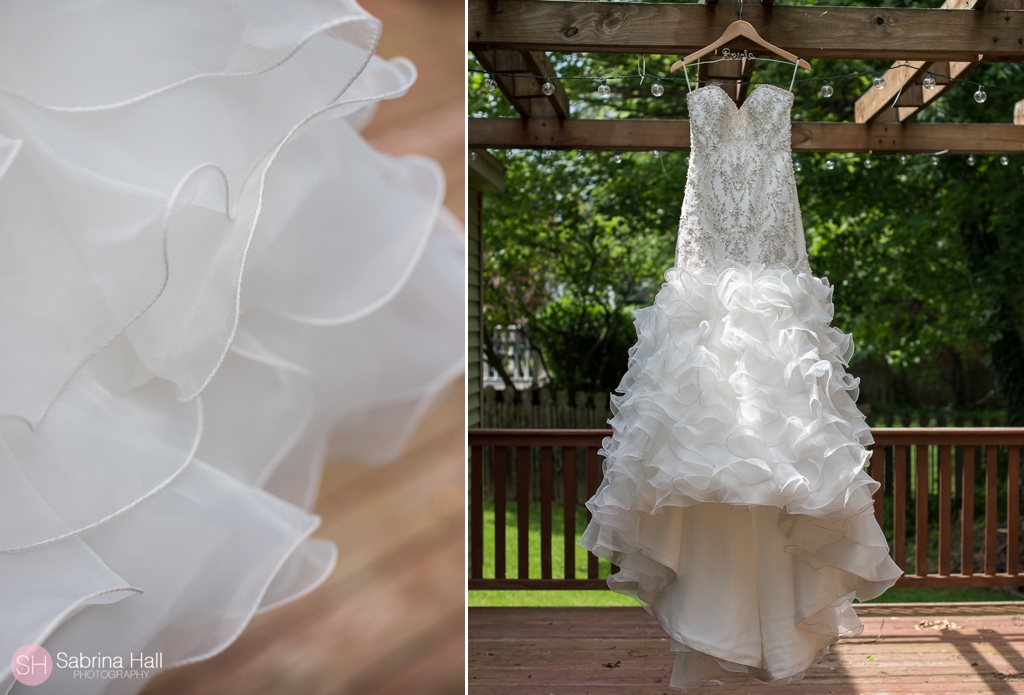 After saying "I do" we went to Boettler Park, with plenty of time for some fun! All five bridesmaids had different color dresses with uniform white flower bouquets from Nikki's Perfect Petal Design. The seven groomsmen were handsomly dressed in a navy tux and each had a different pastel colored tie.
Katie's dress was so stunning. Soon after she and Joshua got engaged she brought a dress, but it was too traditional for her. So, she went back out and found the dress of her dreams at Universe Bridal. She wanted to find a dress with as much beading and frill as possible, and this dress had it all. She looked amazing! Katie's bouquet was gorgeous, it was full of all the colors she loved. Incorporated in her bouquet were pearls from her Grandma.
The reception was held at Guy's Party Center. Sitting Pretty Linens supplied the gorgeous blue table runners and the pastel blue chair sashes. The center pieces were all made by Joshua's grandmother. The whole reception was beautiful! They had donuts from Peace Love and Little Donuts and even an Ice Cream Bar! Yes, an Ice Cream Bar! The bar was from New Baltimore and it was a huge hit.
The whole day was absolutely beautiful and full of love!