Engagement Party Invitations, Save the Dates,
Wedding Invitations and Change the Dates
An invitation can set the tone for your wedding. The engagement party invitation, save the date or wedding invitation might be the first thing your guest sees pertaining to your big day! It gives guests an idea of what to expect. When choosing your invitation you set the tone for your wedding with colors, theme, black tie, casual, etc.
Custom samples are a great way to start! Basic Invite has so many design options to match your engagement party, save the date template, change the date or wedding. Basic Invite allows you to order a printed sample of their invitation so you can see the card's paper quality and how it will print before they have to place their final order. I personally love the gold foil stamping! A sample is a great way to see how much this pops and really adds a personal touch to your invitations. You will receive your samples in this beautiful folder that is packed full with information to help you make final depictions about your engagement party and wedding invitations!
This year you might be looking for change the date cards. Basic Invite is the perfect place. They have great options to send to your guests to keep them updated. Planning a wedding in the next year or two? Click over to see their save the date templates. I love all the options they have for including photos from your engagement session. It is the perfect way to incorporate and share your photos!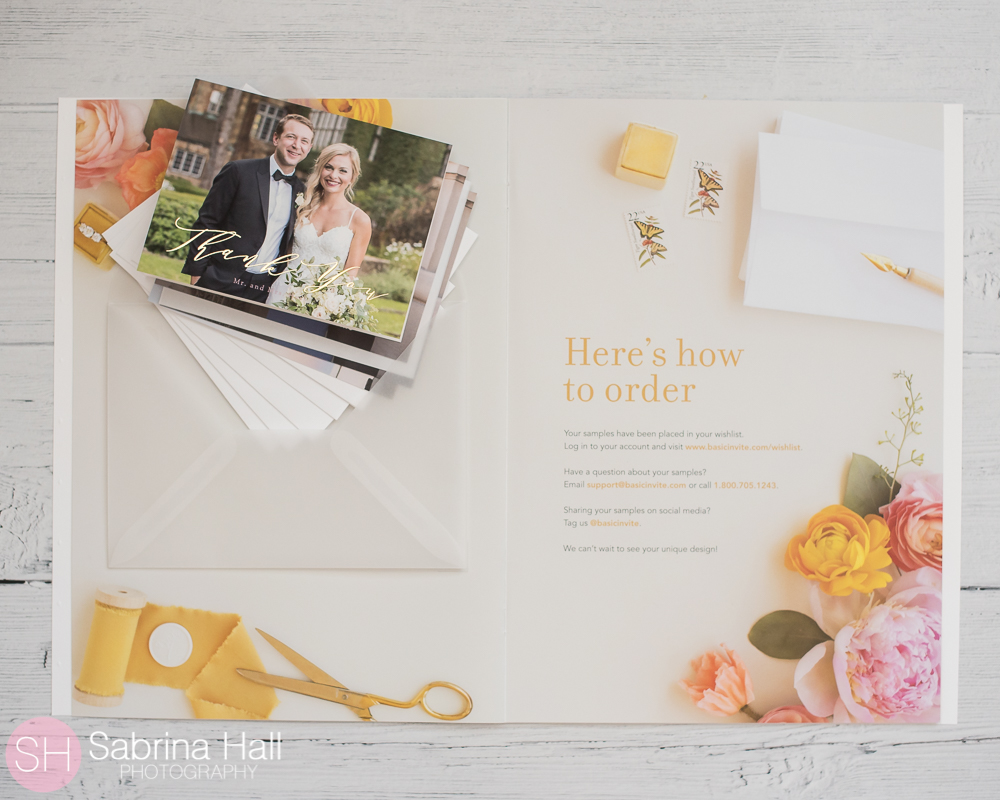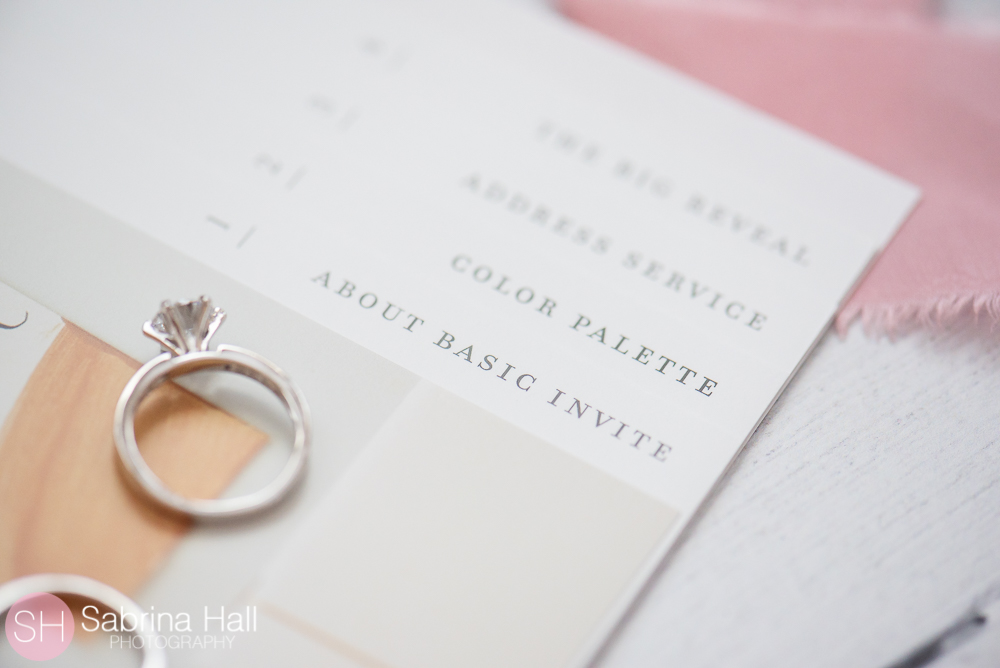 Matching your invitation color to your wedding colors is the easiest way to incorporate your wedding into your invitation. Basic Invite is one of the few websites that has unlimited color options with instant previews online! You can change the color of each element on a card, with over 180 different color options. The card can be exactly how you want it, down to the littlest detail. This is what sets them apart from any other online stationery and will save you a lot of time and concern.

Not only can you customize the colors on your invitation you can also choose from 40 different envelope colors! Set the tone before your guest even opens the invitation! All of their envelopes are peel and seal so the envelopes can be closed quickly and easily. No licking or sponges here!
In a hurry or need an easy option? Basic Invite has invitation sets! Your wedding stationery will include, save the dates, wedding invitations, enclosure cards, wedding menus, wedding programs, and even matching thank you cards! It's easy to find everything you need in one place! They have oven 900 set options but don't let that overwhelm you! It is easy to search by size, color, orientation, photos, events and themes.
Basic Invite also will do all the work for you! They have a free address collection service with three easy steps! All you have to do is share a link via social media or email, collect addresses, and get free envelope printing.
Looking for something even more simple? Seal and send might be the option for you! Their seal and send wedding invitations are an all-in-one wedding invitation with a tear-off RSVP postcard included! Currently, they offer them in over 30 designs including my favorite their foil options, and, like their other products, they are customizable! (You can include a beautiful photo from your engagement session!) What's special about our Seal & Sends is that guest's addresses are printed on the front of each invitation, so no envelope is necessary. All you have to do is use their free address collection service. Once you receive your order you will add postage, fold your invites, and secure them with a sticker! Simple and easy!
Lastly, wedding websites are very popular and gives you a way to share more information with guests. Wedding websites are a great way to share with guests your registry, guest accommodations and introduce them to your bridal party! Don't forget to include photos from your engagement session! Basic Invites free wedding websites and completely customizable! They're mobile friendly and super easy to use. You can instantly upload all of your wedding details, along with images, and a convenient map with directions for your guests. The coolest part? You can match your wedding invitations! The perfect way to tie your whole wedding invitation process together!

Ready to get started? Find Basic Invite online for all your engagement party invitations, save the date/change the date and wedding invitation needs!